Author: Ip Tsz Yan Natalie, BBA (Law) IV; HKU

Date: 7/8/10

Li CJ, Ng Ka Ling & Ors v Director of Immigration: [1]
"the courts of the Region have a duty to enforce and interpret that law. They undoubtedly have the jurisdiction to examine whether legislation enacted by the legislature of the Region or acts of the executive authorities of the Region are consistent with the Basic Law and, if found to be inconsistent, to hold them to be invalid."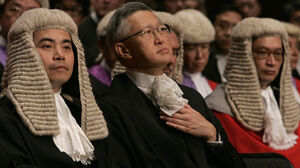 Footnotes
↑ http://law.hku.hk/clsourcebook/conlawcase/NgKalingCFAe.htm - last accessed 7/8/10
Ad blocker interference detected!
Wikia is a free-to-use site that makes money from advertising. We have a modified experience for viewers using ad blockers

Wikia is not accessible if you've made further modifications. Remove the custom ad blocker rule(s) and the page will load as expected.