Author: Antonio Da Roza
Date: 5/8/10

Under the Air Pollution Control Ordinance, polluting processes must be licensed. This licensing regime is found under Parts IV and IVB of the Ordinance. [1]
Licensing and the Air Quality Objectives
A list of polluting processes, 'Specified Processes', is set out in Schedule 1 of the Ordinance. The prevention of noxious or offensive emissions from such processes is set out in section 12 of the Ordinance, and the requirement for such processes to be licensed is set out in section 13. It is a criminal offence to carry out such polluting processes without a licence.
[2]

Whilst the licencing regime has as its purpose the attainment and maintenance of the AQOs, achievement of them is not mandatory under APCO. [3]

The AQOs are referred to in the application for licences, but not under the general requirement to prevent "discharge of noxious or offensive emissions" under the licensing regime. (3) When licences are applied for or varied under APCO, the public may object to the grant of the licence based on the AQOs or prejudice to health. However, no provisions are made for objections on renewal or transfer of licences

Licences and exemptions cannot be cancelled, varied or revoked for breach of the AQOs – they may, however, be cancelled, varied or revoked with the approval of the Chief Executive if continuation of a specified process is or is likely to be prejudicial to health. [4]
Costs of licensing
Licence holders may be fined for excessive emissions. However, the fining provisions in Parts IV and V of APCO have not been revised since 1993. [4]
The annual fees for licences under s 15A were last updated in 2000.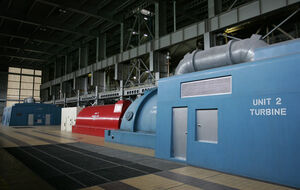 [4]
Electricity works
Power generation is licensed under Part IVB of the Ordinance as 'specified licences'. Starting in 2010, electricity providers will be allocated a quantity of emission allowances under section 26G for the purpose of attaining and maintaining (though not necessarily requiring the achievement of) the Air Quality Objectives. [3]

Breach of allocated quantities will lead to criminal liability and fines for excessive emissions, but adjustments can be made for emissions allowances. Under section 26J in respect of licences for electricity works, up to 2% of allocated emissions may be carried forward if emissions for the preceding year are lower than those allocated. [4] </font>
See Also
Footnotes