Summary: Antonio Da Roza, Jessica Hefes
Originally reported: China Daily Hong Kong Edition
Date: 6/2/10
Originally: 30/10/09
Turning Hong Kong green [1]
In an exclusive interview with China Daily, Secretary for the Environment Edward Yau said at the outset that environmental protection is not in itself a sector. As the government promotes the use of electric vehicles in Hong Kong, at the same time it encourages intake and application of electric vehicle technology from foreign countries. The technology used by the local manufacturer of MyCar to build electric vehicles is imported from Europe, he noted. It is a kind of environmentally-friendly technology suitable to Hong Kong, but it will take three to five years before the technology is used extensively in the local car-building industry Yau further stated that the use of electric cars can proceed in tandem with city planning in Hong Kong. If the use of electric vehicles is extended to public transport and transportation services, it will greatly help improve the air quality in Hong Kong Cross-boundary cooperation saw approval of over 330 projects enabling Hong Kong manufacturers operating in the Pearl River Delta region to upgrade their production by way of cleaner or greener methods over the past two years.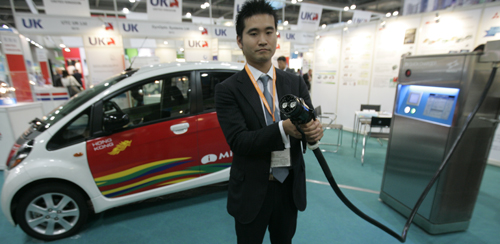 Endnote
↑

30/10/09 China Daily Hong Kong Edition
Ad blocker interference detected!
Wikia is a free-to-use site that makes money from advertising. We have a modified experience for viewers using ad blockers

Wikia is not accessible if you've made further modifications. Remove the custom ad blocker rule(s) and the page will load as expected.