Author: Antonio Da Roza
Date: 5/8/10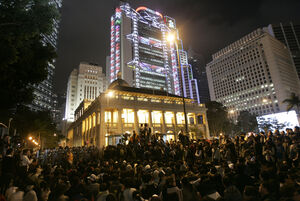 Laws in Hong Kong are created by the legislature of Hong Kong, the Legislative Council. [1]
LegCo consists of a single chamber, with 60 members; 30 are directly elected from geographical constituencies, and 30 are elected from functional constituencies, which represent professional or special interest groups.
LegCo enacts and amends the legislation of Hong Kong by simple majority vote on bills which are put forward by the Government.
Laws in Hong Kong are called Ordinances, and each Ordinance has a chapter number.
Footnote
↑ LegCo website – last accessed 10/8/10
Ad blocker interference detected!
Wikia is a free-to-use site that makes money from advertising. We have a modified experience for viewers using ad blockers

Wikia is not accessible if you've made further modifications. Remove the custom ad blocker rule(s) and the page will load as expected.