Author: Antonio Da Roza
Date: 7/8/10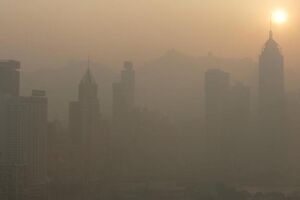 Smog is now a common phenomenon for the entire Pearl River Delta. [1] In Hong Kong, low visibility occurs every 5 days. [2]
Visibility as a measure of air pollution
Poor visibility is directly related to trends and episodes in air pollution. Loss of visibility is also a direct measure of illness and deaths caused by air pollution. [3]

The U.S. Environmental Protection Agency (EPA) identified reduced visibility as the best indicator of all environmental effects of air pollution. [4] For every one kilometre loss in visibility below 20km, there is an increase in mortality risk of 0.36% - 0.55%.
Visibility trends in Hong Kong
In the 1980s there were typically no hazy days in summer in Hong Kong and on average only five hazy days per month in winter. The number of hazy days per month went up to about four in summer and 15 in winter during the 1990s, and eight in the summer and 25 in the winter from 2000 onwards.
Since 2003, the number of hazy days (visibility less than 8km) has doubled.[5]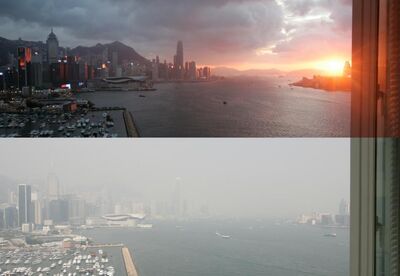 Footnote